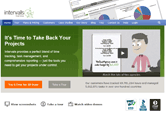 Welcome to the official Intervals Help site!
Here you'll find answers to common support questions, tips and tricks, videos, and demos. If you can't find what you are looking for on the Intervals help site please contact our support team.
What is Intervals?
Intervals is a hosted task, time and project management service with powerful reporting that is ideal for small businesses. Intervals is fully featured yet easy to use. Learn more at www.myintervals.com.